Creativity As A Form of Healing
Interview led by: Lauren Strybos | fromtreetosea.com
—
Today, we're happy to welcome multi-media artist Samantha Rueter to the blog! As an east coast resident, she creates dynamic and abstract works of art, and fosters a sense of community through passionate dialogue on exploring creativity, supporting others, and navigating life's ups and downs.
Samantha, we're so excited to learn a bit more about you and your process! First off, could you please give us an introduction to who you are and what you do?
Thank you ladies so much for having me, I'm humbled and grateful for the opportunity! I'm Sam, a (now) full time artist living in Charleston. I don't consider myself really a specific medium of art; I've been working with paint, drawing mediums, and textiles over the last year in my business. Traveling and nature is really what provokes me to create in the first place. I'm incredibly grateful for every experience that has led me to this point in my life.

Have you always been passionate about creating? Was this something you previously saw yourself pursuing as a career?
Mmm, yes and no! Subconsciously of course I had always wanted to pursue creating as a career. My dad is also an artist, so I was raised on the mindset of exploration and curiosity. Whether it was on a morning hike, during school work, or at his drawing board—he always encouraged me to ask questions, critically think, and look for the answers myself.
I followed in his footsteps and received my BFA—but as a double major in Education. My dad also worked as an artist in New York City for quite some time, but once I was born my parents made the decision to move upstate for their future family. Life moves fast and he was pulled away from all that he loves, creating wise. He's very successful, but has an insane amount of talent that is hidden by being in a career other than the arts. I think this conflict has always lingered in the back of my mind. This past year I've really focused on putting my fears aside in order to create a life that I'm proud of.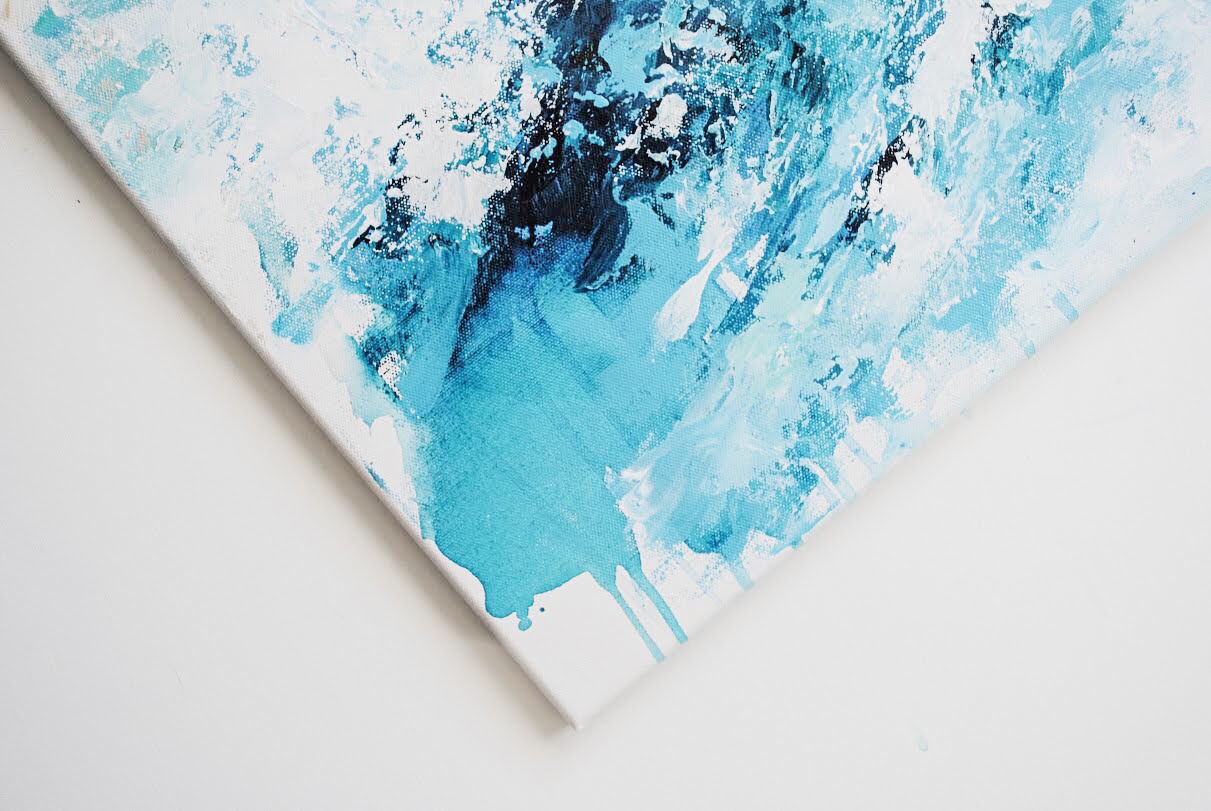 As you mentioned, you're currently based in South Carolina. How does the city you live in influence your work?
Yes! Though I was born and raised in New York, my family did a great amount of traveling throughout my childhood. The coast has always been a favourite of mine, of ours really. I thrive on sunshine and saltwater. Moving to Charleston has been eye-opening and really wonderful. My work had always been influenced by nature, but by moving to the coast, I was really able to focus on my first love—water. Sketching, observing and reflecting on its movement, while actually experiencing it; changed my work dramatically.
As you touch on in your piece 'Receding' in Issue 3, the sea can be unpredictable and unforgiving, but also calm and serene at times. We'd love to hear a bit more about the inspiration, thoughts and process behind creating this piece and why you chose to portray the sea in this dynamic way.
'Receding', the piece shown in this issue was a project that really pushed my creative boundaries and opened up my mind to a state I was once in. Portraying water, whether it is created as a seascape or abstract piece, I always want to focus on the powerful movement.
At a young age, my parents were constantly carrying me out to the deep water, past the waves. Teaching me to swim, tread water, float—even body surf. I was fearless. The ocean was another word for love.
That is, until, the first time you get taken out to sea for not paying attention to the current; or the first time a wave engulfs you—tossing your small body upside down underwater, knocking the breath from your chest. I learned very quickly that though the water can be serene, alluring, even magical—that it also embodies great force, movement, and power. As an artist, I've wanted nothing more to portray both sides of water. Balance.
I made the decision to move back to soft sculpture for this project, mainly for two reasons. First, I knew that textiles would allow me the manipulation abilities I craved in order to depict the movement of water. Second, most of my college and post college career was working with soft sculpture, textiles and installation pieces. I have since moved my focus to more 2D creations, but sought out the challenge. It took me right back home again.
 
Is there a consistent philosophy that runs throughout your work? What emotions come to you as you transition from one series to the next?
This is a difficult question for me to answer, it always has been. Each series I create is a new challenge, a new experimental part of who I am as an artist. In college, I was exposed to many areas of the visual arts—ceramics, jewelry, sculpture, printmaking, textiles—in order to teach you have to be able to perform in these areas. It changed everything for me. There are so many mediums, philosophies and elements in each of these areas that interest me. Excite me. Each series is an exploration of who I am. An outlet. Creating has always been a healing power for me, and each new piece I put out into the world is just a reflection of that. It may be an experience that has altered my path, my mood that year—all of who I am is in each new work..

Have you sacrificed anything to run your business? If so, what was it, and do you have any regrets? (Or, contrastingly, what has been your favourite moment since creating your business?)
There will always be sacrifices. As entrepreneurs the list could go on and on, but I don't like to dwell on these things because in the end I am able to wake up each and every day and do what my heart desires.
The greatest sacrifice of all, for me, was leaving my teaching career. Creating and teaching are two of my greatest gifts; they make me, me. Impacting a child's life is truly unexplainable. Hearing them sound out a word for the first time, seeing the joy on their face when they solve a problem all on their own—it's an incredible journey. For the last five years, those students taught me something new about humanity, love, about life—every single day.
We follow along on your beautifully written blog, and read your recent piece on living with chronic illness. Have your current and past battles with this influenced your work and/or your process?
Such a compliment coming from you ladies. Relating and connecting with others is what my heart longs for. I am transparent. I will share any deep part of who I am if it means making someone else feel a little less alone, less frightened, less bitter. There are so many of us fighting hidden battles. What a world it would be if we all just reached out a little more often and said, "it's okay, I feel it too.."
My health is something that has always been very prevalent in my attitude and life choices. It took great opportunities away in the past, but also gave me the gift of realization. Life is short. But extraordinary. And wonderful. But if I spend it all day in bed, crying over my misfortunes, what is the point of living at all? Each diagnosis made me realize that on the drop of a dime, it all can change. Everything can be taken away from you. I started living. Really living. Chronic illness is what made me step away from my chaotic 60 hour weeks of work and misery to give myself some peace. Allow myself to heal. Illness itself is the reason I am doing what I am today.
I think many artists eventually find themselves experiencing 'the blues' or some sense of self-doubt about their work in general at some point or another. How do you deal with this and do you have any tips for fellow makers who may face similar challenges?
Truthfully, I can be the BLUEST of them all if I let myself go down that road. It's not so much creative block as it is fear. I am exceedingly hard on myself. Fear of being ridiculed, fear of not being accepted. We all go through stages of doubt. My favourite tools: self help books, swimming in the ocean, meditating, yoga, and utilizing my tribe. I emphasize the use of a 'tribe', a group of like-minded people who support you, love you, and understand you. These people are those you can turn to when you need advice, extra reassurance, or just some good love. I'm so grateful for those who do this for me on a daily basis xx

What or who are you currently inspired by?
Inspiration is everywhere. It's difficult for me to pinpoint. I mean, looking at this fantastic, fucking magnificent, whirlwind of a world that we are living in. Each person in our lives influences our work; whether we recognize it or not. For my latest collection of work, I have been referring to Matisse—digging out my old sketchbooks from my own study of his work—observing textbooks and collections. One of the greatest.

Do you have any upcoming projects or collaborations you are looking forward to? What can we expect to see from you in 2017?
Ah, a new year—new goals, new challenges, new thoughts. My word for this year is connection; interaction within new networks and collaborations with innovative makers. A fellow artist and I have a goal for a traveling campaign in the summer, hoping to inspire other creatives to utilize social media and use these connections in real life to make big, beautiful impacts—give back to our world in powerful ways. We're excited to begin a journey and form new relationships!
I am currently challenging myself with a new body of work, "Figures and Forms" which will be released in several series through the rest of the winter. In the spring, I look forward to returning to my true love; the ocean. The colour blue will always welcome me home again.